Who We Are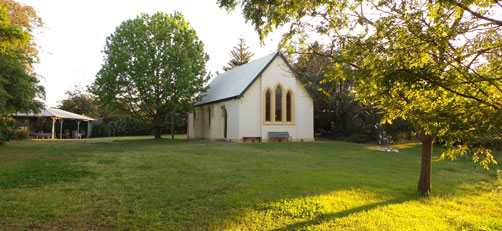 The Evangelical Sisterhood of Mary (Protestant) is an international and interdenominational Christian community. Our Australian centre, established in 1981, is called 'Canaan of God's Comfort'. It is the base for our ministry throughout Australia, New Zealand, South East Asia, and the Pacific Islands. We are actively involved in the local community and are also invited to hold retreats and to speak at churches and groups in the local area and across Australia.
Our property features:
A historic church and former one-room schoolhouse and school master's cottage
The Prayer Garden with scenes from Jesus' suffering, death and resurrection (open during daylight hours)
A book shop with the Sisters' literature in many languages
Accommodation for participants in our Faith Into Practice program
Picnic facilities for small groups
A banner at the centre of the property seeks to honour God for all that He has done at Canaan of God's Comfort.
We are located in Theresa Park, NSW, about 55km southwest of Sydney and are open daily to visitors and groups. In addition to a daily Three O'Clock Prayer service, we hold special celebrations at Christmas, Easter and other church holidays, Days of Fellowship (mini retreat days), Guided Quiet Days, and interdenominational prayer meetings.
Weekend conferences are held annually at a nearby retreat centre and in other states upon request.
Our Sisterhood's ministry is multi-faceted. Love for Jesus constrains us to share His love in every way possible. We produce audio visual materials and literature that are available for distribution. Leaflets are also stationed at strategic places like post offices and hospitals, so that people can help themselves. Written on a variety of topics like reconciliation, faith and prayer, illness, loneliness and growing old, rock music and the occult, they have been a help and encouragement to many.
We are frequently asked to share with churches and fellowship groups both here and abroad about topics such as love for Jesus, living in reconciliation, repentance, spiritual warfare, and how to become strong for the time of testing.
Watch the videos below for a more in-depth introduction to our history and our ministry: