Visit Us at Canaan of God's Comfort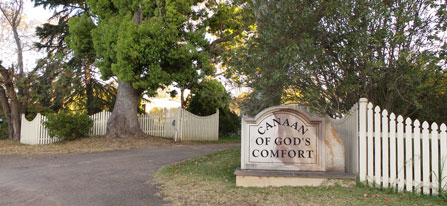 Ever since our heavenly Father guided the original group of Sisters through many obstacles to their own piece of land in Germany, all our branches carry the name "Canaan" after the biblical Promised Land.
The name of the Australian branch is "Canaan of God's comfort", which has a twofold significance. Certainly, our God is a source of comfort and strength.
But we also aim at bringing comfort to God's heart, by living in accordance with His will and not conforming to the ways of this world. We hope that both these meanings will come alive for you when you visit us at Canaan.
Until further notice, we are sadly unable to receive visitors or guests groups, due to the ongoing COVID19 situation.
Please enjoy the concept of a 'vitual tour' using the links on this site such the chapel, The Garden of Jesus Suffering and Resurection, and The Fountain of the Fathers' Goodness. There are also a wide range of clips available on our Youtube channel.
Thank you all for your kind understanding.